Jane Masons Creations
---
Night Flying
Available for touring from autumn 2019
Drawing on ideas related to deep time, the night sky and landscapes of being, Night Flying is a collaboration with long-time collaborator David Williams. Together they explore a constellation of associations related to memory, change and wonder.
Their work on the performance began with some core objects – sand, wigs, silver sheets, a guitar – and some shared interests: in the feelings and stories that lie dormant in objects, and how to 'awaken' them; relations between the very large and the intimate, the far away and the near at hand; and echoes between past experiences and the present, and their mysterious travel into the future.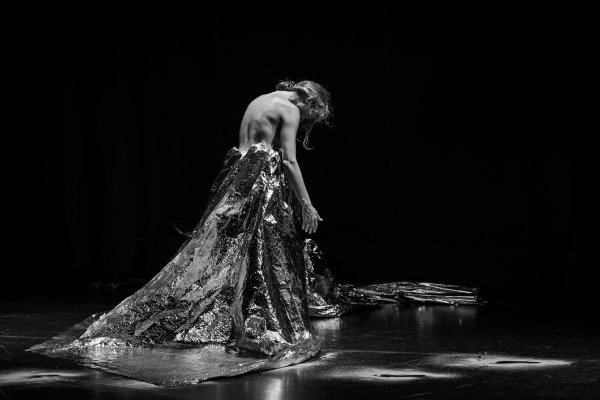 'And pray for us said the great trees, and pray for us said the small trees, and pray for us said the short grass, and pray for us said the grass that was not yet'. Djuna Barnes
The performance of Night Flying combines movement, music, text, and objects to create images that unfold fluidly like dreams. A map of the night sky. Footprints in the sand. Breath, wind, flight. An encounter with an 'angel'. A journey into space carrying messages about our world for other alien civilisations. Ultimately, it offers 'a choreography for the small hours … for the 4:07 a.m. in you when the streets and cities and landscapes are stilling, when the world has evacuated the day, when you are yet to meet the sunrise' (Ian Abbott, Writing about Dance).
Over the past decade or so, in her solo and collaborative work in live performance and film, Jane Mason has explored ways in which the movements of bodies and objects can create 'image worlds' of great affective resonance and tenderness.
These dynamic architectures of memory, loss, and longing combine dance, text, song and music in patterns of images that slowly align and unfold to suggest passage ways through felt times and spaces of a rhythmed intimacy and intensity. Usually triggered by some aspect of her own lived experience, these 'worlds' invite a quiet attention to detail, and an active slowing down into present process.
Over the years, many of Jane's images have lingered with me and etched themselves into my imagination – for in their exquisite precision and mystery, paradoxically they seem to invite and activate something of the life forces within our own memories and associational fields.
David Williams
Download the Night Flying Tour Pack here
Read a review by Ian Abbott here
Night Flying has been researched and developed with funding from the National Lottery through Arts Council England.
Night Flying is supported by Dance4, Exeter Phoenix, The Point, Pavilion Dance South West, SURF THE WAVE, South East Dance, SystemsLAB, Mark Bruce Company, Kaleider and Dance in Devon.